Discover How To Start Growing Artichokes
Artichokes are considered an exotic type of vegetable, and many gardeners thinking that growing them is difficult. But growing artichokes is actually pretty simple. An artichoke plant is a beautiful feature to have in any garden because it has large attractive silvery green leaves. Not only that they also have the most beautiful artichoke heads that so many people love to eat.
You can start growing artichokes in two ways from seeds or from a side-shoot from an existing plant.
Growing Artichokes – Sowing
I started all my artichoke plants from seeds. I sowed the seeds in pots. I filled the pots with multi-purpose compost, water the pots with a watering can and now you can place 1 seed in each pot – then cover the seed with a little compost. You can sow the seeds inside from February to April – the earlier you sow the seeds then you might need a propagator to get the seeds to germinate. The later sowings won't need a propagator to germinate.

Once the seedling is grown to around 8 – 10 cm tall and they are starting to get mature leaves – you will need to harden the plant off so that you can plant it outside. To harden the plant off you place it outside on a warm day. Then in the late afternoon or early evening you bring the plant back inside and you do this for a week or so, this allows the artichoke plant to get used to the weather outside.
Only plant the artichoke plant after all the dangers of hard frost have passed.
Alternatively, if you know someone who has a mature artichoke plant you can ask if they could give you a side-shoot to start growing artichokes.
Removing a Side-Shoot
You can also plant an artichoke plant from a side-shoot. You will need to either have a mature artichoke plant or know someone with a mature artichoke plant.
To grow an artichoke plant from a side-shoot you will need to remove it from an existing artichoke plant.
Dig in deep around the existing artichoke plant using a spade you need to get under the roots. Then using a knife you need to separate the shoot from the base of the existing artichoke plant.  The best time to do this is either in the spring or autumn. Now you can re-plant the side shoot to start growing artichokes.
Growing Artichokes – Soil Conditions
Artichokes actually prefer a warm and sunny location and like to have fertile and well draining soil. Prior planting dig in some well-rotted manure in the soil as the artichokes will greatly benefit from this.
The plants are pretty strong and can cope with wind location. The artichoke plants get pretty big so they will need around 16" to 24" between each plant. Each plant will produce several artichokes. If you get too many then you can cut a few off so that the plant can grow the biggest artichokes possible.
Growing Artichokes – Feeding
Feed the artichoke plants with some general purpose fertilizer and also mulch around the plants to stop any weeds.
Harvesting
The first year the artichoke will produce a few artichoke but it's better to encourage the plants to grow a strong root system – so you will need to pick these young artichokes. off rather then let them develop. You can pick artichokes the second year.
You need to pick the artichokes as they become firm and the size of a tennis ball. The artichoke will taste much better if it's picked when the head is closed. If you allow them to stay on too long they will start to flower and even though they have a very beautifully flower which is very popular with bees – you won't be able to eat them once they have flowered.
To pick the artichokes just take a sharp knife and cut them just below the stem.
Artichokes can be cooked by boiling them for around 40 to 50 minutes. We either eat them plain or we make a sauce of salad cream and tomato sauce (sounds revolting) but it's very nice.
We all love growing artichokes. And if we give them to friends they are mightly impressed that we grew them ourselves.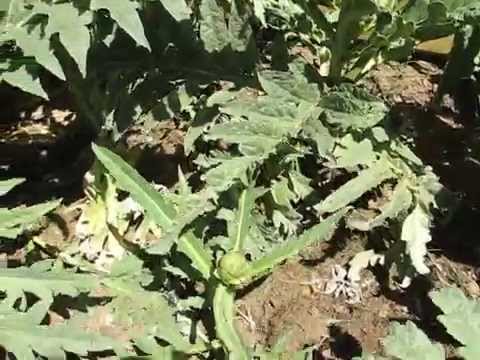 Below is a video on how to cut a globe artichoke of a plant.